MOLDTECH supplies a universal prestressing bed system in Mexico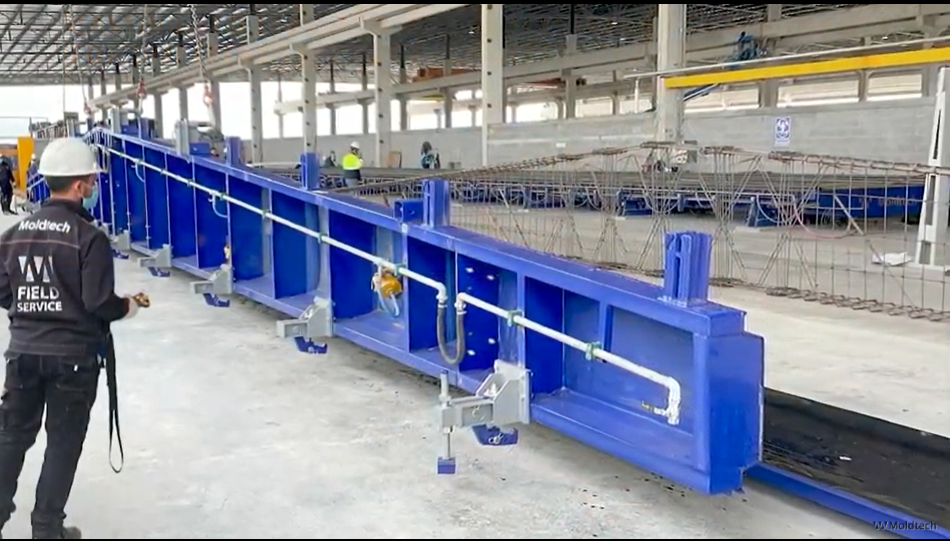 Partners news
14 Jan 2022
Moldtech designs, develops and manufactures flexible projects tailored to each customer requirements
This universal bed system has a fixed base system that allows the production of beams with a base up to 80 cm. The tensioning head system has relaxation cylinders and the corresponding tensioning equipment, for 12- and 15-mm diameter strands. This system will allow our client to start developing the market for industrial and logistics warehouses in the Monterrey region, in addition to producing beams for bridges.
Along with the universal prestressing bed system, MOLDTECH has supplied a modular length delta beam mould, which will allow the customer to produce delta beams up to 34 meters in length. These beams will be used for the construction of industrial and logistics warehouses.

MOLDTECH has also supplied a beam mould for "L", "T" and rectangular sections, variable width, one meter high, and 24 meters long. This mould will work on the universal prestressing bed system and will be used to produce all types of slab support beams.

To solve the drains of the industrial roofs, MOLDTECH has provided the client with a self-supporting mould of a 15-meter-long "H-channel" beam, with a fixed section of 40x50 cm, and a 150-ton prestressing system. This channel beam will be in the lower part of the delta beams to collect rainwater from the roof, and discharge through vertical pipes fixed to the columns.
Do not miss the video: https://www.moldtechsl.es/es/actualidad/videos/pista-universal-para-pretensado-de-vigas
Learn more at MOLDTECH