Cluster ANMOPYC looks forward to meet you at BAUMA 2022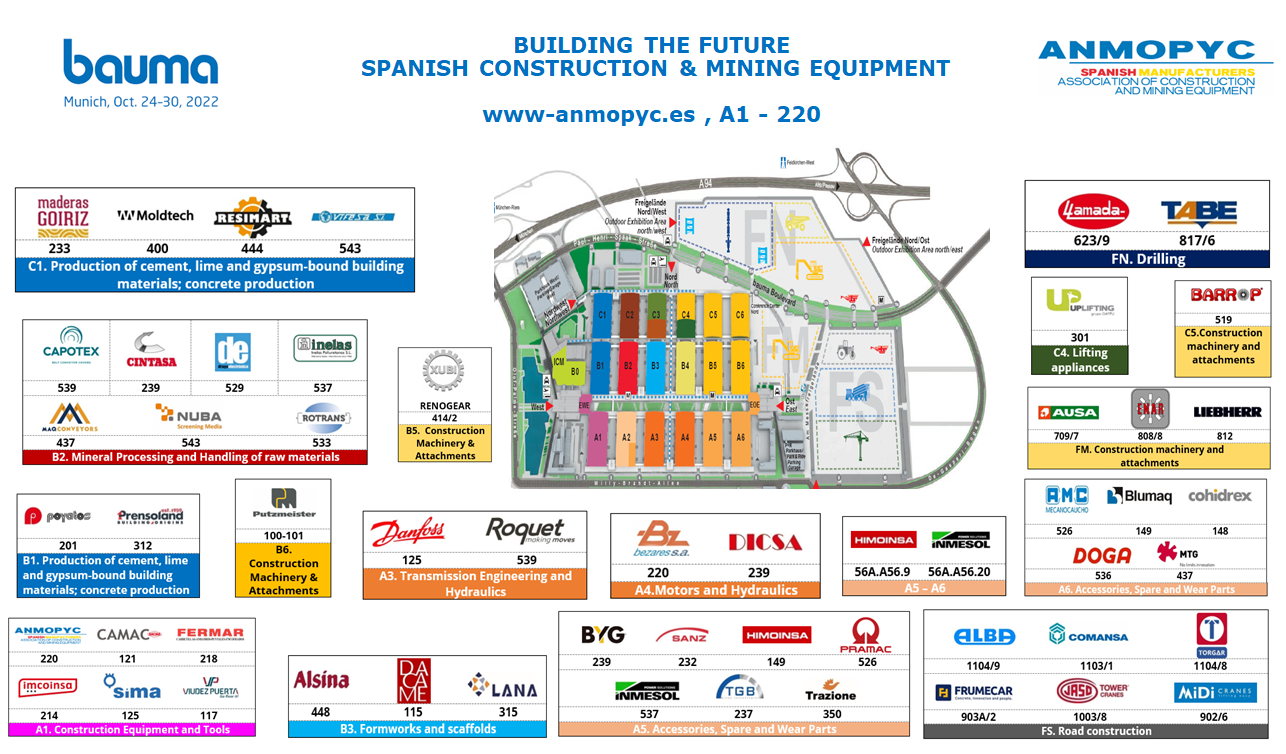 Anmopyc News
21 Oct 2022
Visit us and discover all about machinery and equipment for construction and mining
Click to expand the plan: Cluster ANMOPYC at BAUMA 2022
Click to see the represented trade marks by ANMOPYC Cluster at BAUMA 2022
Spanish construction and mining equipment will be represented at Bauma 2022.

The 2022 edition, ANMOPYC and 50 of its members will be in Munich from 24th till 30th of October.

Our companies will occupy a total surface area of 5,000 sq.m distributed through 14 halls and outside areas.

ANMOPYC stand the Spanish construction industry meeting point

ANMOPYC stand, Hall A1, 220, will be the Spanish construction industry meeting point. Information about the Spanish Construction and Mining Equipment offer will be provided. There will hold meetings with business people, organizations and sector actors.

ANMOPYC stand is also the reference point for our members both exhibitors and visitors who have a working area to meet customers, suppliers and new contacts.

ANMOPYC Spanish wine tasty party. Wednesday 26th of October

As usual since several editions, ANMOPYC will offers to its members and international media a Spanish wine reception at the stand. This way the attendees will enjoy in a friendly and relaxed atmosphere.

The event will be on Wednesday 26th of October and it is sponsored by our friends of Bodegas Aragonesas giving us their support and the tasting of their great wines.
ANMOPYC to service of its members

Once more, ANMOPYC has been supporting its members since their registration as exhibitors, at every stage of the organization and providing them reliable and quality suppliers.

ANMOPYC will be also during setting-up and dismantling periods to give service in case of any incidence to warranty the best presence in the event.
We also be close to our members visiting the fair, putting our stand at their disposal.
Positive business climate

The two last years made that the global economy has significantly changed and the world stage is different: restrictions and delays in supplying and oversea shipment, higher production costs for manufacturers, labour force shortage, energy and gas rising costs.

Our companies have overcame the situation, thanks to their solidity and experience and they are ready for a great event for the worldwide construction industry reunion in a matchless setting as BAUMA. There will strengthen relationships and begin new ones that will bear results in the future.
ANMOPYC publicity campaign for BAUMA 2022

ANMOPYC is announcing its presence at bauma by a publicity campaign to enhance the image of the Spanish construction and mining equipment, to promote Spanish companies and the technology and quality of their products.

KHL Group is in charge to develop it. Its 17 magazines are highly specialized and whose scope is international.
Comme and visit us! Hall A1.220